Apply for membership
Bank Details:
Name: Lanka Tax Club
Account Number: 2000-6009-2582
Bank Name: Nations Trust Bank (NTB)
Branch Name: Corporate Branch
Branch Code: 006
Bank Code: 7162
Swift Code: NTBCLKLX
Special Notes:
Membership is valid for a calendar year.
You will receive the title as Associate Member of Lanka Tax Club "ALTC", After three years, you can apply for Fellow Membership and authorized to use acronym "FLTC".
WhatsApp available mobile number should be given in the above form in order to join our LTC Group to get Latest Tax News & Updates. You are not authorized to share anything not related to Tax.
You will receive Latest Tax News & Updates to the given email address.
SMS Alerts on Latest Tax News & Updates can be activated (Type "REG TAXCLUB" and send to 77000 through Dialog | Mobitel | Hutch | Airtel) for a monthly charge LKR. 30 + Taxes.
If you need any further information, please contact us through info@lankataxclub.lk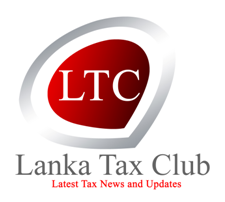 Share this: